Software of the SANKOM company (Audytor series and some business versions) are protected against unauthorised copying. Rights to use the program is transferred from the licence server to the user's computer during the installation of the program. The program which are protected, will not work without the rights transferred to the user's computer.

There are following ways to pick up the rights:


automatically through interent (where the computer is connected to internet),
through the website (where the computer is not connected to internet, but another device with internet connection is available),
It is possible to give back the rights to our server any time in an analogous way. After that the rights may be transferred to another computer.

Giving the rights back to the server blocks work of the program on the computer, but neither data nor the program is deleted. Another transfer of the rights to the computer unblocks the program.
It is possible to install the program on more computers, however it is not possible to work on more copies of the program at the same time.
It is important to protect the licence key, because without it will not be possible to run the program. It is also essential that the licence key is not available for any unauthorised persons.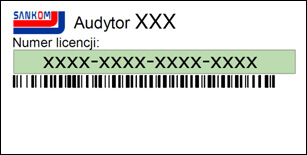 Label with the licence key of one-site licence
The software with one-site licence may be activated exclusively on one site (at the time).